Splunk For Security & SIEM Tools
Uncover your 'dark data' with the powerful capabilities of Splunk
Uncover your 'dark data' with the powerful capabilities of Splunk
Living in the digital age, every corporate device generates data- and at an unprecedented speed. But how can you leverage the power of this information, to gain visibility into your business's digital processes? With the right tools, you can understand the valuable correlations within these logs to hone and improve business processes. Seems like a mammoth task, right? Think again.
Splunk is a powerful solution which will transform your entire IT ecosystem. By investing in an advanced SIEM solution like Splunk, your business will stay ahead of the curve.
Ready to achieve your security goals? We're at your service.
Whether you are a CISO, an IT Director or a business owner, Equilibrium has the expertise to help you shape and deliver your security strategy.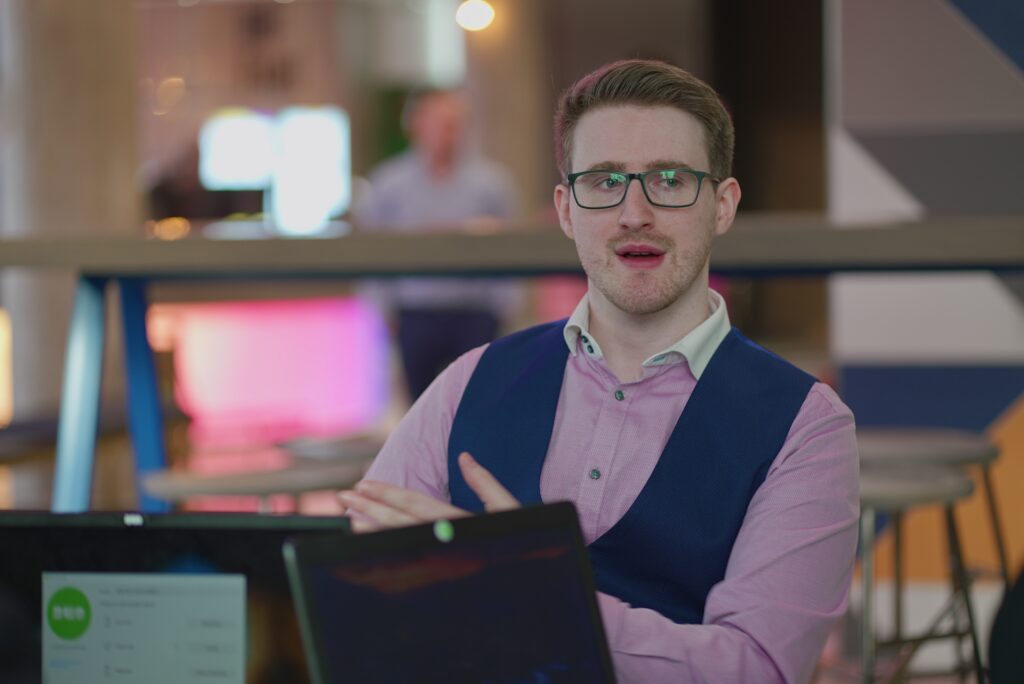 Splunk software is a powerful SIEM solution which helps businesses understand and analyse machine generated data. The Splunk application gathers and correlates 'big data' from any specified machine. This industry leading security solution not only provides unparalleled visibility across your entire technology infrastructure, it also answers your burning questions about all of your data logs… when you need it most! It is no surprise that Splunk security is currently trusted by 92 of the Fortune 100 companies. Read on to find out more about Splunk's unmatched capabilities.
What is Splunk?
Splunk is an industry leading application which consolidates and index's logs and machine data. Splunk has revolutionised log management solutions as it has the capability to drill down into raw, unstructured data. Using ad-hoc 'on the fly' searches you can quickly search back in time to reveal important patterns and trends which may be affecting your business.
The Splunk SIEM app is the 'nerve centre' of a security infrastructure. It brings multiple areas of security and technology together to improve the way you use and interact with your 'big data'. The innovative platform allows you to action and address cyber threats which threaten the security and effectiveness of your critical systems.
Index machine data
Splunk technology can store and index any structured or unstructured machine data. Splunk's data storage capabilities has no predefined schema. It can be from any location or device, this includes network and endpoint security logs, threat intelligence information, wire data from networks, data from API's, sensor data and much more.
Search, correlate and investigate
Splunk enterprise security allows you to search data retrospectively using the same Splunk interface. You can also 'schema on the fly' which helps you to focus or widen your search queries and uncover important insights about your data logs. The Splunk data analysis feature also allows users to correlate data based on time, location or external data. It even offers intelligent contextual suggestions while you are searching for resolutions.
Drill-down analysis
Splunk security can analyse all data on a granular level. Splunk trend analysis can be used to quickly reveal important patterns, inconsistencies and the sequence of events over a specified time period. This powerful tool can help you find the 'needle in the haystack' during a cyber-attack or network downtime- which could otherwise take weeks or months!
Monitor and alert
With the Splunk monitoring platform you can send automated alerts via email, RSS or to a ticketing system. This means that Splunk administrators have constant visibility of the threats which need to be contained/ remediated. You are not bombarded by 'white noise' security alerts, they can be tailored to complex thresholds specific to your business's needs
Reports and dashboards
The Splunk SIEM dashboard is highly intuitive. It has the capability to build graphs, reports and interpret the results. This can be presented in customisable charts so that you have a bird's eye view of your entire data analysis. Users can access the Splunk dashboard from a desktop or a mobile device.
Insights when you need them
With Splunk services you can easily search using powerful SPL query language. This alongside the seamless, user-friendly dashboard greatly reduces the time spent troubleshooting and finding a swift resolution.
Easy API integration with other applications and tools
Using API's Splunk can easily integrate with your existing security tools so that you can make the most out of your security investments. Splunk can integrate with tools/vendors such as Tripwire and Cisco to act as a single pane of glass for your data analysis and security.
Splunk is a powerful solution which will transform your entire IT ecosystem. By investing in an advanced SIEM solution like Splunk, your business will stay ahead of the curve. Splunk log management not only secures your critical systems, it also makes it possible to expand into new areas and proactively mitigate emerging threats. When it comes to troubleshooting and achieving wider strategic objectives, Splunk is an invaluable, real-time supply of your business's data.
Although other security controls are good at detecting and blocking isolated cyber-attacks, today's most dangerous threats are often distributed. These attacks infiltrate multiple gateways using advanced techniques to go undetected. Without a SIEM solution like Splunk, these malicious intrusions can grow into devastating breaches.
Here at Equilibrium we are Splunk experts. We not only have the security expertise to design and implement Splunk, we can also offer ongoing management and optimisation to ensure you are leveraging the full benefits of the powerful tool. Are you ready to see the full benefits for yourself? Get in touch today to organise a free Splunk demo.